Yorba Linda Adventure Playground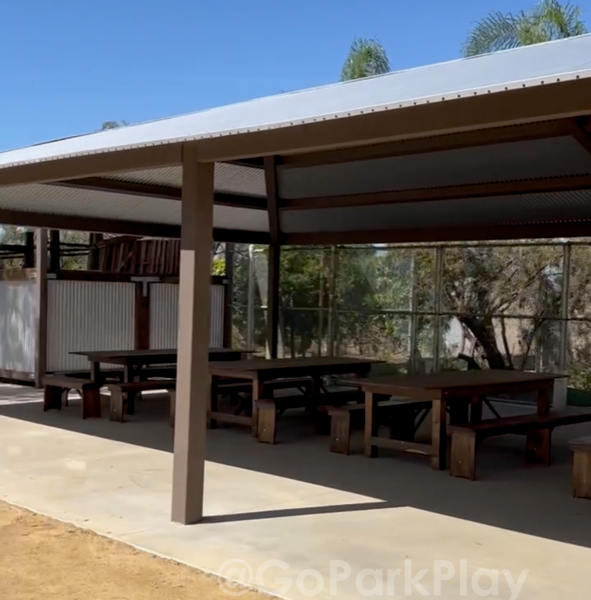 Playground Equipment Climbing Net, Water feature, Zipline
Sport Fields Open Grass Area
Park Features Covered Picnic Tables
Yorba Linda Adventure Playground
Located at Hurless Barton Park (additional playground here)
Adventure Playground is FREE and open to the public during the hours below – reservations for Sat & Sun are now required – openings all subject to change or close due to weather. Children 10 and under must be accompanied by an adult.
Adventure playground is filled with a playground with a large climbing net tunnel structure that leads to a metal slide, water pump, splash pad, side by side zip line, water slides & sports area.
Covered picnic tables and individual restrooms that have room for changing as well as outdoor showers.
Splash Pad
Swim diapers are required for children not potty trained.
Plans to try to keep the splash pad open year round during hot months & open during public hours
Waterslide Rules
Enjoy the side by side twisting water slides
All riders must be at least 48″ tall
Maximum rider weight is 300 pounds
Warning: Water depth is 3 feet 6 inches, non-swimmers are not permitted
Only one rider at a time, no tubes, mats, or life jackets are permitted.
Reservations
Effective Saturday, May 13, 2023, Saturday and Sunday reservations will be required to attend Adventure Playground.  Reservations will be available online at http://www.YLRecOnline.com starting Wednesday, May 10.  Additional information and instructions on the reservation process will be available in the next few days.
 Please note, the following dates have modified hours of operation or closures for the site.  
Saturday, May 20: Closes at 4:00 p.m.
Sunday, June 4: Closed
Thursday, June 8: Opens at 5:00 p.m. and closes at dusk.
Monday, July 3: Closed
Tuesday, July 4: Closed
Check here before you go as things may change
Spring (Mid-March to June)
Monday-Friday: 10am to dusk, approximately 7pm

The waterslide will not be open on weekdays.

Saturday & Sunday: 10am to dusk, approximately 7pm

The waterslide will be open from 12-5pm
Summer (Mid-June to Late August)
Closed to the public during week day camp hours & will be open after 5pm to the public on weekdays. During non-camp hours, the southern section of the park, including the splash pad, will be open for public access during the following days and times:
Monday-Friday: 5 to dusk, approximately 7:45pm

The waterslide will be open until 7:30pm

Saturday & Sunday: 10:00 a.m. to dusk, approximately 7:45pm

The waterslide will be open 12pm to 7:30pm
Parking
Parking is available at the following locations listed below. Please do not park on the residential streets off of Casa Loma Avenue. Traffic and parking will be strictly monitored and enforced.
Thomas Lasorda Jr. Field House: 4701 Casa Loma Avenue
Hurless Barton Park: 4601 Casa Loma Avenue
Yorba Linda Community Center: 4501 Casa Loma Avenue
Yorba Linda City Hall: 4845 Casa Loma Avenue